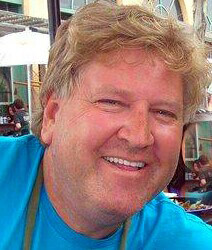 San Diego DJ was founded in 1999 by Ken Wilson Jr. Ken is a Southern California native who has lived all of his life near the beach and enjoys the west coast lifestyle.
Ken has appeared on stage and screen, most recently in the movie This Last Lonely Place, a film noir produced by the Humphrey Bogart Estate. He has had the pleasure to work on sets with Kristen Bell, Allison Hannigan, Xander Berkeley, Rhys Coiro and shared the Comic-Con DJ stage with Efren Ramirez of Napoleon Dynamite fame, where Ken opened for the band Daughtry.
Ken is well versed in the corporate event arena and has performed at hundreds of weddings as well. Ken and San Diego DJ have won several awards including Best Sound, Best DJ and Best Karaoke Show by both San Diego Scene Magazine and Entertainer of the Year.
Ken is down to earth and appreciative of friends old and new. He is outgoing and always wears a smile. His affable personality is well suited to public engagements. Attention to detail is a priority, and customer satisfaction a must. He has been described by many as reliable, professional and fun.
* Fun Fact – The most frequent comment Ken gets when talking on the phone is "You sound like a DJ"
You can contact Ken Wilson directly by using the Contact Us form or calling 858-220-6070
San Diego DJ
864 Grand Avenue #271
San Diego CA 92109
858-220-6070